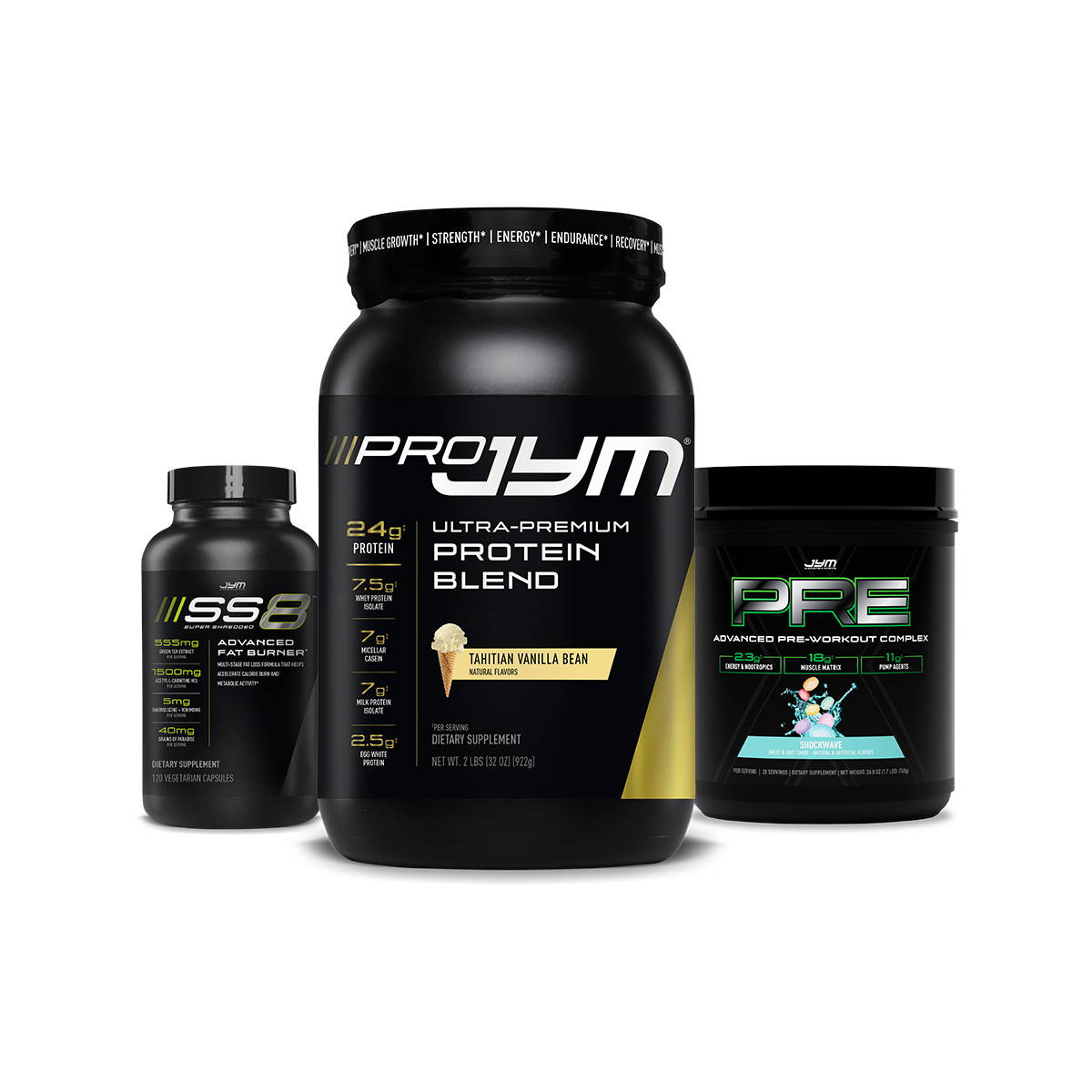 Pre JYM X Extreme Pre-Workout Formula, SS8 Advanced Fat Burner, Pro JYM Premium Protein Powder
This advanced fat loss stack combines two of our most powerful energy products, Pre JYM X and SS8 Advanced Fat Burner, it'll help get you amped both in and out of the gym. Follow our guide on stacking Pre JYM X and SS8 together to ensure you assess your stimulant tolerance and get the most out of these potent brain, energy, and fat loss enhancing products.
Discount and applied at checkout!
• A great value on our Pre-Workout, Protein, and Fat Burner supplements, with 10% in savings versus buying each product individually.
• More muscle through an ideal blend of fast-, medium-, and slow-digesting proteins and amino acids to help promote better, longer muscle protein synthesis (MPS).*
• More intense and productive workouts with a true all-in-one performance pre-workout.*
• Energy and fat loss support with a multi-stage thermogenic developed to help burn more calories, limit fat storage, and boost thermogenesis*

*These statements have not been evaluated by the Food and Drug Administration. This product is not intended to diagnose, treat, cure, or prevent any disease.
©2022 JYM Supplement Science. All rights reserved. JYM® and JYM Supplement Science® are registered trademarks of PHD Fitness, LLC.
DISCLAIMER: Jim Stoppani, PhD is not a medical doctor and does not give medical advice. Please consult with your physician or qualified healthcare provider before embarking on any exercise, diet, or dietary supplement program. The information, including but not limited to, text, graphics, images, and other material contained on this video or on this website are for informational purposes only. No material on this site is intended to be a substitute for professional medical advice, diagnosis, or treatment. Always seek the advice of your physician or other qualified healthcare provider with any questions you may have regarding a medical condition or treatment and before undertaking a new health care regimen, and never disregard professional medical advice or delay in seeking it because of something you have read on this website.