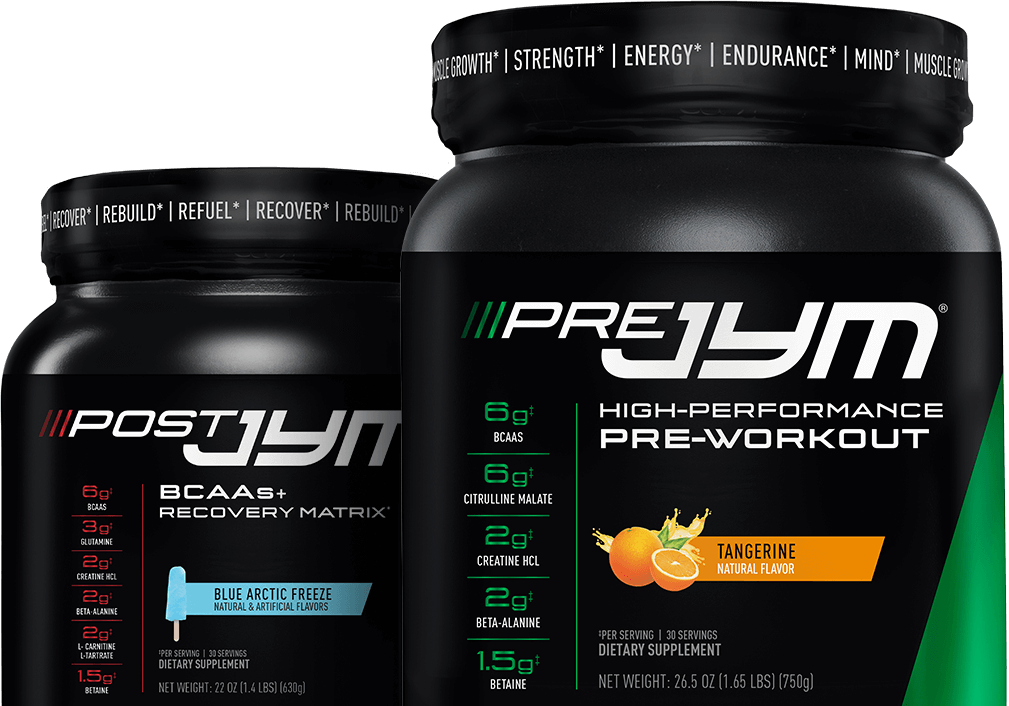 The More Effective & Affordable Way to Optimize Nutrition for Performance, Recovery, and Results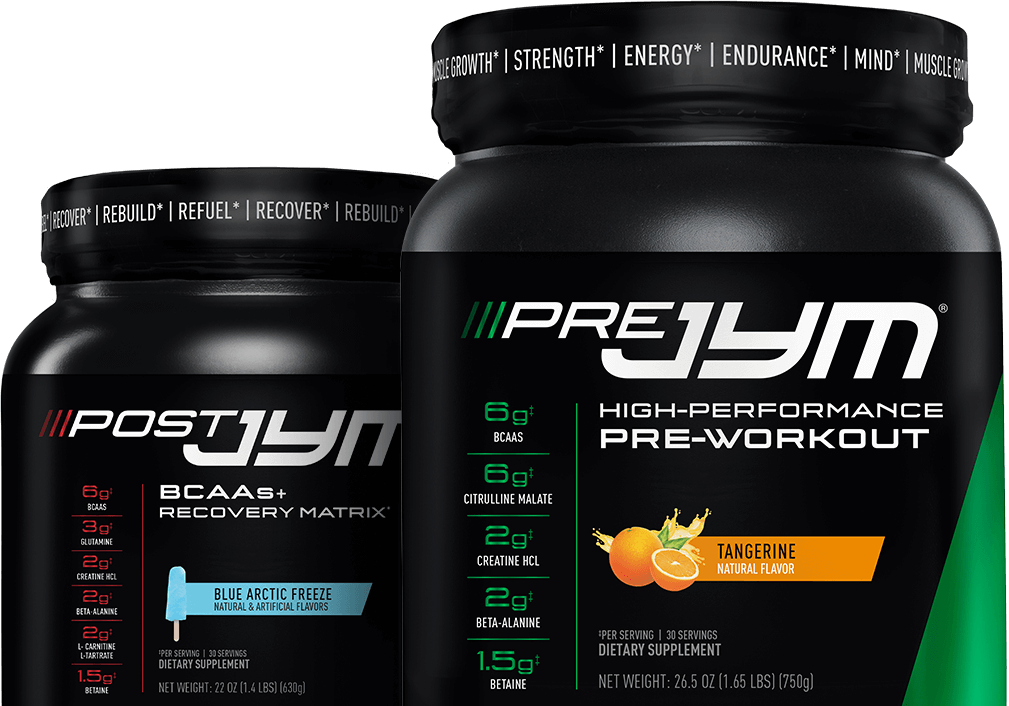 The More Effective & Affordable Way to Optimize Nutrition for Performance, Recovery, and Results
Results from diet and exercise may be good enough for some...
What if "good enough" isn't good enough?
Supplementation can help optimize your nutrition and tap into your potential for faster progress and better results.
But it's easy to settle for discount products that are big on promises...and short on results.
And that's not the only way that compromising on price can end up costing you more in the end.
If you're sick of wasting time and money on products that don't improve your results...
Pre JYM & Post JYM Deliver Formulas You Can Trust—in Just 2 Scoops, and at Less Than Half the Cost
There's a basic truth in sports nutrition today that too often goes overlooked:
Some pre-workouts may seem cheaper than others, but there's a reason for that—they barely have anything in them...
Unfortunately, practices like proprietary blends, so-called "concentrates", and stimulant cocktails that are all about "jacking you up"—but not getting you jacked—are still commonplace.
And all too many formulas rely on these to the exclusion of other crucial ingredients...
That's how those discount pre-workouts end up leading to a 6-tub stack that costs so much you need financing—and they still don't deliver the results you want.
Trying to find everything Pre JYM & Post JYM have to offer from somewhere else could cost you as much as $290 per month—that's over $9 a day
| | | | | |
| --- | --- | --- | --- | --- |
| | Competitor #1 | Competitor #2 | Competitor #3 | JYM |
| | Pre-Workout, Intra-Workout, Creatine, BCAA, Post-Workout, Carnitine, Electrolytes | Pre-Workout, BCAA, EAA, Pump, Creatine | Pre-Workout, Pump, BCAA, Glycogen, Creatine | |
| | | | | |
| | | | | |
| | | | | |
| Studied ingredients in effective, filler-free formulas you can trust? | | | | |
| | | | |
| --- | --- | --- | --- |
| | Competitor #1 | Competitor #2 | JYM |
| | Pre-Workout, Intra-Workout, Creatine, BCAA, Post-Workout, Carnitine, Electrolytes | Pre-Workout, BCAA, EAA, Pump, Creatine | |
| | | | |
| | | | |
| | | | |
| Studied ingredients in effective, filler-free formulas you can trust? | | | |
These aren't cherry-picked numbers; they're fairly standard examples of what it would take if you tried to fill the gaps left by some of our competitors' workout supplements.
...And they still wouldn't match the formulas in Pre JYM and Post JYM.
Why Is It So Hard to Match the Pre JYM & Post JYM System?
Too Many Products Leave Out Ingredients Critical to Performance, Recovery, and Results…
Take creatine, for example, which promotes energy and strength...
Most brands still rely on creatine monohydrate—in part, because it's cheap—even though studies suggest Creatine HCl is better absorbed and tolerated by the body.¹ Some products use different, even less-effective forms— or worse yet, small amounts of 2 or 3. Whether or not they deliver enough to benefit you is a different matter. And many companies sell their creatine separately for as much as $1.30/serving. That's $2.60/day.
Or BCAAs, to combat fatigue and promote muscle recovery²...
Many companies want you to buy BCAAs separately from their pre-workouts, claiming they're better during your workout than before—as if pre-workout nutrition stops when your workout starts—or only good after workouts, which not only short-changes you pre-workout but also costs more when their post-workout and BCAAs are still sold separately.
Other brands promote EAAs (essential amino acids) instead of BCAAs—except their EAAs are almost entirely made up of the 3 BCAAs anyway. They'll still try to sell you both for more than the cost of a serving each of Pre JYM and Post JYM combined.
Citrulline Malate, for better vascularity and muscle pump
Many products rely on arginine, a precursor to the vasodilator nitric oxide. But research shows that L-citrulline leads to higher blood arginine levels than supplemental arginine itself, delivering superior increased blood-flow to muscle tissue and therefore a better muscle pump.³
When paired with malic acid, it not only enhances muscle pump but also reduces muscle fatigue and loss of strength over the course of your workout. In the examples above, you have to either accept a less effective ingredient to provide your muscle pump, or buy a separate product and add it to your stack.
...While Overloading Their Products With Other Ingredients That Don't Belong in a Pre-Workout or Post-Workout
At 26 grams per serving, Pre JYM raised the bar in a world of 6-gram scoops. Since then, many brands have approached that bar in all the wrong ways.
Whether it's loading up on ingredients that are more effective when divided into two servings (like beta-alanine) or adding nutrients that have no business in a pre-workout to begin with, they prove that more isn't always better.
Stimulants
Stimulants have always been popular, passed off as "performance-enhancing", but there's little research to support this claim. For the most part, studies suggests that most common pre-workout stimulants just get you kind of high by influencing dopamine activity.⁴
You may be a bit more focused, and a lot more enthusiastic about your workout, but that doesn't necessarily translate to progress or results.⁵ ⁶ It may even hold you back...⁷
The primary concern with these ingredients is their tendency to increase heart rate, blood pressure, and vasoconstriction, all of which can be extremely dangerous—especially under conditions like rigorous weight or endurance training.
Vitamins & Minerals
Studies suggest that common micronutrients like B vitamins and other vitamins and minerals have little to no impact on overall performance.⁸
Vitamins spent during exercise are best taken post-workout, when your body is most primed for nutrient uptake. In fact, because many vitamins and minerals are used during muscle repair, getting them before your workout can interfere with the muscle stress and damage caused by exercise that lead to progress.
Pre JYM & Post JYM Work Together to Provide Benefits That Go Beyond a Single Workout
JYM Supplement Science was my response to an industry dominated by incomplete formulations and practices that made profits a priority over progress. I staked my years as a research scientist, PhD, and Senior Science Editor of magazines like Muscle & Fitness on one simple, revolutionary idea:
Athletes and trainers of all experience levels deserve an opportunity to get real nutritional support for better, faster results.
And with our transparent labels, studied ingredients and amounts, and a goal of promoting better performance and results in both the short- and long-term, JYM Supplement Science continues to lead the industry.
While every ingredient in Pre JYM and Post JYM is included to support your training, not all of them work immediately. For example, creatine can be taken any time of day—the important thing is that you take it consistently, over time. But when paired with the BCAA leucine, creatine uptake is enhanced.
Synergies between the ingredients in Pre JYM and Post JYM optimize utilization for maximum effect.
The synergy between the two products is key to their overall effect. Research suggests that nutrients like betaine, beta-alanine, and creatine are more effective when split into separate servings. That's why ingredients mirror each other in Pre JYM and Post JYM.
The Pre JYM & Post JYM System: Ingredient Rundown
BCAAs to help trigger muscle protein synthesis, blunt fatigue, and boost metabolism
Con-Cret© Creatine HCl to promote increased energy and strength
Beta-Alanine to support stamina and endurance
Betaine for enhanced energy, endurance, and an improved response to inflammation for faster recovery
Taurine to promote better endurance and reduce post-workout fatigue
Bioperine to enhance nutrient absorption
Pre JYM: Focus on Performance
Caffeine Anhydrous to promote energy, endurance, alertness, and focus

Citrulline Malate 2:1 to help increase nitric oxide levels for better muscle pumps and energy production

Beta Vulgaris for improved blood flow and muscle oxygenation

L-Tyrosine to support neurotransmitter levels for increased energy and performance.

AlphaSize© Alpha-GPC for improved CNS activation and muscle contraction

Huperzine A to enhance focus for even longer
Post JYM: Focus on Recovery and Results
L-Glutamine to help promote a healthy immune system and recovery

Carnipure™ L-Carnitine L-Tartrate to assist in muscle protein synthesis, muscle repair, and muscle growth
Pre-Workout Powder Powerhouse Packed with 13-Hand Picked Ingredients to Support Improved Workouts*
Features
6 grams of Citrulline Malate
6 grams of BCAAs in the 2:1:1 ratio
2 grams of Con-Cret® Patented Creatine HCl
2 grams of Beta-Alanine
1.5 grams of Betaine
600 milligrams of N-Acetyl L-Cysteine
500 milligrams of Beet Root Extract
300 milligrams of Caffeine
150 milligrams of alpha-GPC(from 300mg of AlphaSize®)
50 micrograms of Huperzine A
5 milligrams of BioPerine® Black Pepper Extract
Post JYM BCAAs+ Recovery Matrix
Powerful Cocktail Designed to Help Refuel, Recover, and Rebuild*
Features
6 grams BCAAs in a 3:1:1 ratio
3 grams Glutamine
2 grams Creatine HCl
2 grams Beta-Alanine
2 grams Carnipure® L-carnitine L-tartrate
1.5 grams Betaine
5 milligrams BioPerine®
Frequently Asked Questions about

JYM Supplement Science
Who is Dr. Jim Stoppani?
For nearly 2 decades, Dr. Stoppani has dedicated his life to helping millions change their lives through education on nutrition, supplementation, and training. From his time as a research scientist at UCONN and Yale to his role as Senior Science Editor for Muscle & Fitness Magazine, Flex, and Muscle & Fitness Hers, and through his website and social media presence today, Dr. Stoppani has taken what he's learned in the lab and used it to introduce fitness enthusiasts to the most efficient and effective means of accomplishing their goals.
Why did Dr. Stoppani create JYM Supplement Science?
The supplement industry used to be dominated by products that hid ingredients or amounts behind "proprietary blends" or bogus claims of being "concentrated". Pre-workouts in particular offered little in the way of effective ingredients, instead relying on stimulants to make users "feel" like they were working.
After years of recommending formulas that required his readers to buy individual ingredients to combine themselves (often with awful-tasting results), Dr. Stoppani decided to introduce his first product, Pre JYM, which featured a fully transparent label disclosing every ingredient and a formulation that provided ingredients in studied amounts to promote better performance and results.
What makes JYM Supplements different from any other brand?
Every JYM Supplement Science product is formulated according to Dr. Stoppani's exacting standards, namely his 5 Pillars of Supplementation. These are Proper Ingredients, Proper Ingredient Forms, Proper Ingredient Amounts, Proper Synergy, and Proper Timing.
In addition to this, every JYM Supplement label lists clearly each ingredient and its amount. Last but not least, Dr. Stoppani makes every effort to ensure that each flavored JYM product is as enjoyable to take as it is effective.
Are JYM products only for serious or experienced athletes?
The JYM Supplement line is designed to work together and consistently over time to improve performance, results, and overall health. While intended for use in the context of a fitness lifestyle, JYM products can be useful to newcomers and veterans alike.
Where can I learn more about the science behind JYM Supplements?
Visit the individual product pages on JYMSupplementScience.com for more detailed breakdowns of the science behind each product and what they can do to help you get more from your diet and training.
1. Miller, D., Alraddadi, E.A., Lillico, R., Vennerstrom, J.L., Lakowski, T.M. March 2018; Pharmaceutics 10(1):31
2. Stoppani, J., Scheett, T., Pena, J., Rudolph, C., Charlebois, D.; 31 July 2009; J Int Soc Sports Nutr 6(Suppl 1): P1
3. Scwedhelm, E., et al.; 2008; Br J Clin Pharmacol 65(1):51-9
4. Irsfeld, M., Spadafore, M., Prüß, B.M.; 20 Sept 2013 Webmedcentral 4(4):4409
5. Ziegenfuss, T.M., et al; 10 May 2016 J Diet Suppl; 14:1, 9-24
6. Engels, H.J., Wirth, J.C.; Oct 1997; J Am Diet Assoc 97(10): 1110-5
7. Snyder, C.J.; 2016; Medicine
8. Clarkson, P.M.; 1993; Nat Acad Press (US)