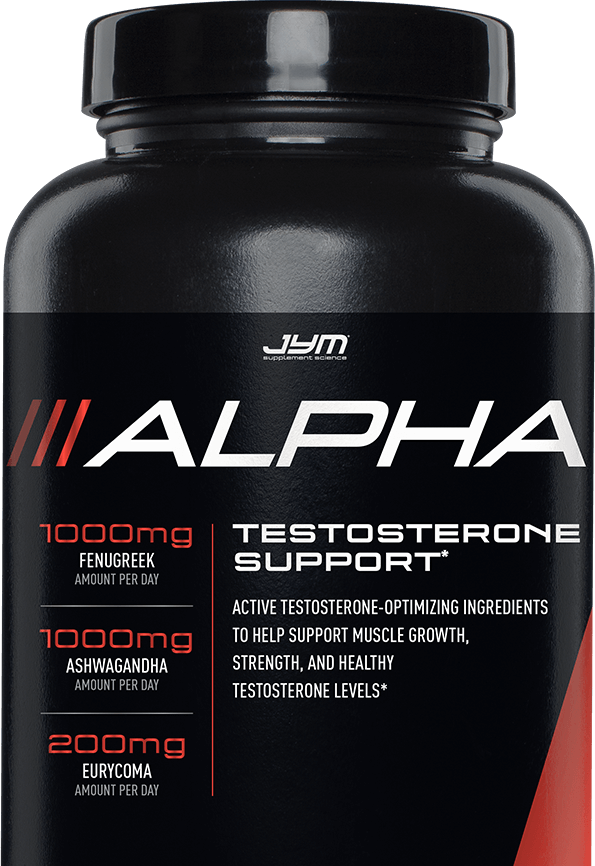 Pro JYM Ultra-Premium Protein Powder Blend: Superior Support for Muscle Growth & Recovery with an Award-Winning Taste
Forget "Boosting" Testosterone—Optimize It Instead with Alpha JYM
While most so-called "test boosters" are busy compensating for low testosterone with stimulants and mood enhancers, Alpha JYM's formula is designed to support your body's own ability to produce and maintain better testosterone levels.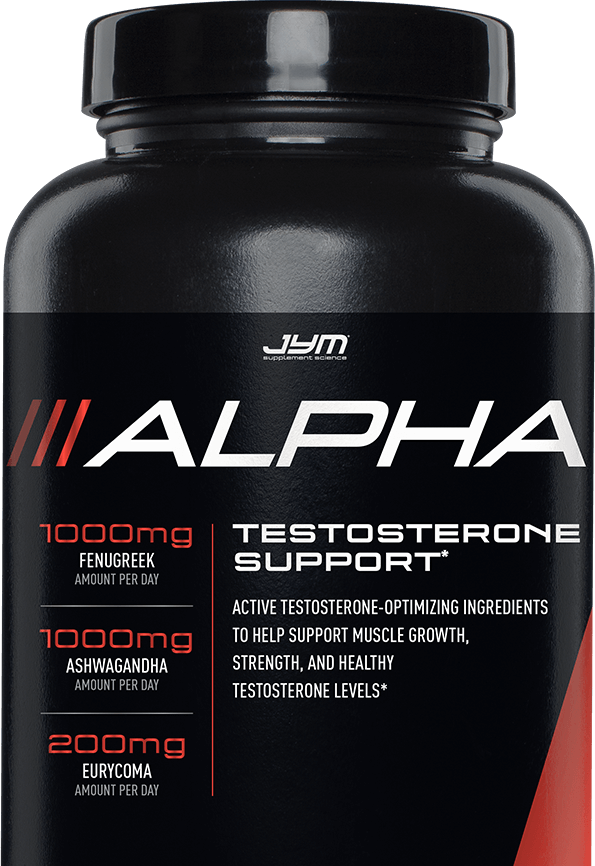 Forget "Boosting" Testosterone—Optimize It Instead with Alpha JYM
While most so-called "test boosters" are busy compensating for low testosterone with stimulants and mood enhancers, Alpha JYM's formula is designed to support your body's own ability to produce and maintain better testosterone levels.




There's no shortage of supposed testosterone boosters on the market today. In fact, some brands offer more than one, with different formulas at higher costs promising to do even more to help solve your low-testosterone problems.
But the truth is, too many of them focus on the symptoms—low energy, reduced strength, longer recovery times—with ingredients that don't actually have anything to do with testosterone. And far too often, when they do include ingredients that affect testosterone production, they either don't provide them in effective amounts or only provide a few.
Bottom line? Most so-called "test boosters" really aren't. So what makes Alpha JYM any different?
Alpha JYM Is Formulated to Attack Low Testosterone at Its Sources
Testosterone levels naturally decline as we age, starting as early as the late 20s for some. There are several reasons for this, in addition to the natural decline brought on by aging itself, like body fat percentage, stress, illness, etc.
And while test levels can be increased by lifestyle changes like losing fat and regular exercise, there's no escaping that testosterone levels will still start decreasing as you get older. That's where Alpha JYM comes in.
With its non-proprietary blend of 6 key, scientifically-studied ingredients, Alpha JYM approaches the problem of low testosterone from multiple angles – not only supporting better testosterone production and retention, but also helping to suppress processes that reduce testosterone, affecting a better overall hormone balance.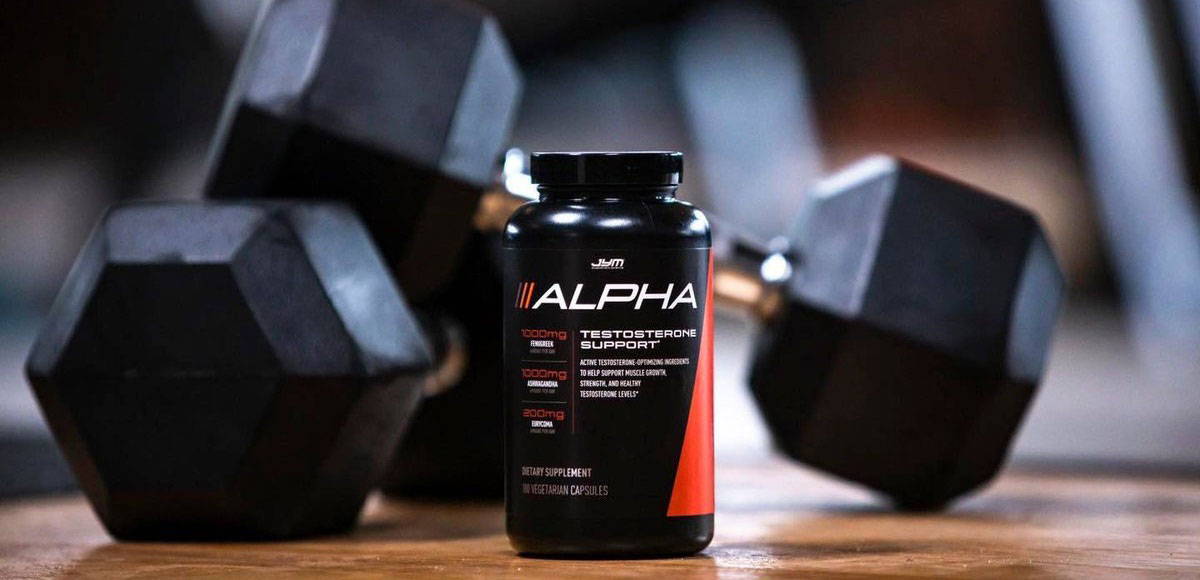 How Alpha JYM's Ingredients Work Together to

Promote Better Testosterone Levels
As with every JYM Supplement product, Alpha JYM's formula was designed with synergy in mind, meaning each ingredient works with the others for optimal benefits.
Alpha's formula includes 500 mg of fenugreek per serving, taken twice per day, for a total of 1000 mg that provide 500 mg of saponins daily to promote an increased release of luteinizing hormone (LH), spurring Leydig cells to ramp up testosterone production. Plus, as an antioxidant, fenugreek also helps to prevent oxidative damage that otherwise hinders the conversion of cholesterol into testosterone, further enhancing production.*
Studies suggest the saponins in fenugreek also helps boost levels of free testosterone by freeing it from its carrier molecule, sex hormone binding globulin (SHBG), and reducing its conversion to estrogen and dihydrotestostoerone (DHT—a major cause of male pattern baldness).*
In the form of a 5:1 extract, Alpha JYM's 500 mg (1000 mg/day) delivers the equivalent of 10 grams of pure ashwagandha powder per day. This potent adaptogen and antioxidant, used in Ayurvedic and Unanic medicine for centuries, promotes a better stress response in the body, specifically by helping to reduce cortisol levels which would otherwise limit testosterone levels.*
Additionally, by supporting your body's ability to withstand stress, ashwagandha can help promote better performance, endurance, and even will-power when it comes to maintaining your dietary and training regimens. This can translate into better gains in muscle and strength, and improved fat loss.*
1000 mg daily (500 mg per serving) of this aromatase inhibitor assists fenugreek in slowing the conversion of testosterone into estrogen. Studies also suggest that damiana provides support for nitric oxide (NO) production, promoting better cardiovascular circulation.*
Provided at 250 mg per serving, research shows that DIM supports a healthier hormone balance by influencing the conversion of estrogen to its weakest metabolite instead of stronger, more problematic forms.*
Included in the form of a 100:1 extract—meaning Alpha's 100 mg per serving equals 100 times the source ingredient—Eurycoma longifolia has been shown through several studies to help raise free and total testosterone, while also reducing cortisol levels.*
Like ashwagandha, this reduction in cortisol supports a better overall stress response, but more importantly promotes a testosterone to cortisol ratio that has been linked in studies to an increased anabolic state.*
Studies suggest this flavonoid—common to many food sources— provides several potential benefits, such as promoting better cardiovascular health and blood flow, influencing mitochondrial production for better endurance, and supporting the immune system.*
In Alpha JYM, which delivers a daily total of 500 mg, quercetin helps to preserve the work of all the other ingredients by inhibiting the conversion of testosterone to testosterone glucuronide, which is the form your kidneys flush out of the body.*
Alpha JYM's Synergy in Summary*
Optimize the body's own production of testosterone by promoting the release of luteinizing hormone (LH) from the pituitary gland

Promote an ideal balance of estrogen and testosterone to keep the former from getting too high

Provide antioxidant support for test-producing cells in the body, protecting them from destructive free radicals

Help free up more testosterone in the body through interaction with the carrier protein sex hormone binding globulin (SHBG)

Work to keep test levels high by decreasing the amount of testosterone that's excreted from the body by the kidneys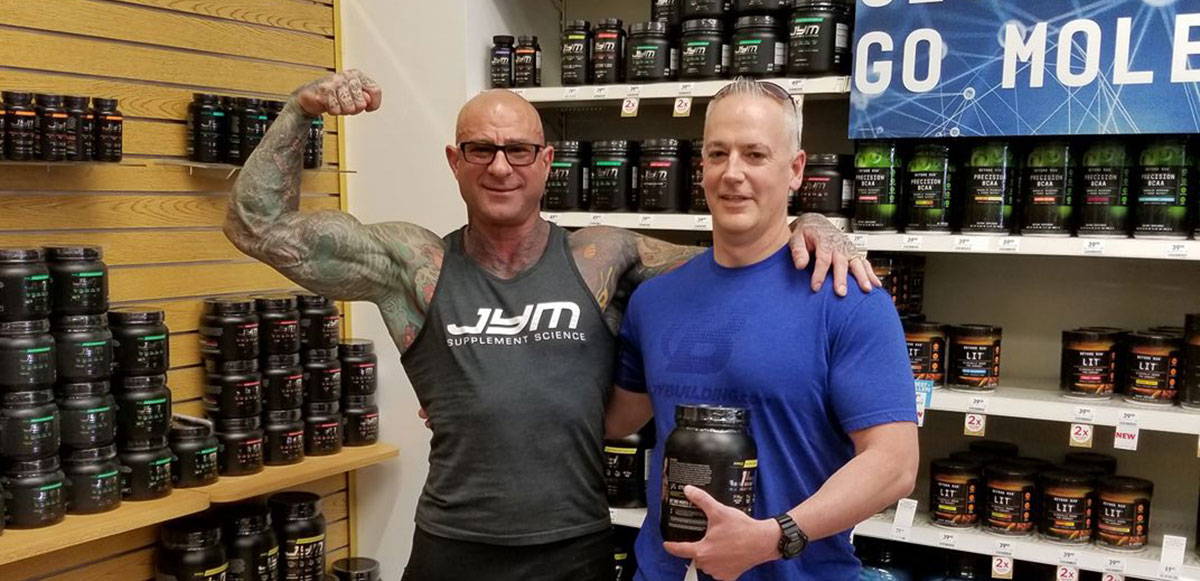 Real-World Results Using Alpha JYM
Alpha JYM's ingredients and dosages have been supported by numerous studies, but it's truly the results that matter—and you don't have to take my word for it, either.
James Mullane, ND, owner of Natural Family Medicine in Danbury, Connecticut, is no stranger to athletics, fitness, or resistance training. At 46, he swears by Alpha JYM as his go-to for optimizing testosterone levels...and he's even got data to back it up.
After suffering a serious injury in 2015, Dr. Mullane focused on hormone levels to speed up his return to the gym and the sports he still wanted to compete in (mostly sailing and cycling).
With a research background from his years in Naturopathic Medical School, he dove into the literature on a number of testosterone-boosting supplements, namely Fenugreek. Coming across Alpha JYM and seeing that it had a full 500 mg of Fenugreek per serving, plus a number of other ingredients he had previously studied (including Ashwagandha and DIM), Dr. Mullane decided to try it out.
But he didn't just want to take Alpha JYM to see how it "feels" – he wanted to put it to the test with blood work before starting it and follow-up labs thereafter to track his hormone levels.
Needless to say, Dr. Mullane was impressed with both how he felt taking Alpha JYM and the lab results. He started on Alpha JYM in November 2015 and ran follow-up labs in September 2016. Results showed favorable hormone numbers: a 50% increase in Total Testosterone and a 26% increase in Free Testosterone.
Just to make sure, he did a retest with a "washout" and another set of labs three months later (December 2016). The retest confirmed the positive results, and he's been taking Alpha JYM continuously ever since.
"Previously to trying Alpha JYM, I had tried a few over-the-counter test boosters, both from the sports supplement world and from the medical supplement world," says Dr. Mullane. "I never did lab work [on the products] and never really felt that they worked. I definitely feel that the JYM line of supplements (especially Alpha JYM and the natural line) has been very integral to my training, health, and fitness. Especially with being 46 years old. Most men seem to slow down after 40. I haven't. I've traded my sailing (both competing and coaching) for cycling. and I think my weight lifting is smarter now. I'm definitely going strong."
Real People, Real Results
This is just one example showing that Alpha JYM produces results in the "real world"—with a Naturopathic Doctor who does his own testing, no less!
Keep his story in mind next time you're inundated with so-called "test-boosters" that have no such results to back them up.
Dr. Mullane's results only confirmed what thousands have already learned about Alpha JYM's 6-ingredient formula: Skip the "boosters" and get the test-optimizer instead.

"I have tried various Test boosters and Alpha by far is the best value on the market. My increase in energy and stamina is unmatched. It makes getting older and being active much more bearable"
Aaron P.

I have tried several Test support products over the years, most provided very little in the way of support. AlphaJYM is the exact opposite, I noticed more energy and stamina within a bout a week of my first dose. I am convinced that AlphaJYM is the best TEST support on the market.
George P.

"I started using Alpha Jym a couple of months ago and can really feel the difference in the gym! My workouts have been more intense and I feel more energized throughout the day."
Ryan
Helps Manage a Healthy Hormone Balance*
Pro JYM Features

1000 milligrams Fenugreek
1000 milligrams Ashwagandha Root Extract
1000 milligrams Damiana
500 milligrams Diindolymethane (DIM)
200 milligrams Eurycoma Longifolia Extract
500 milligrams Quercetin

Per recommended 2 daily servings
Frequently Asked Questions about

JYM Supplement Science
Who is Dr. Jim Stoppani?
For nearly 2 decades, Dr. Stoppani has dedicated his life to helping millions change their lives through education on nutrition, supplementation, and training. From his time as a research scientist at UCONN and Yale to his role as Senior Science Editor for Muscle & Fitness Magazine, Flex, and Muscle & Fitness Hers, and through his website and social media presence today, Dr. Stoppani has taken what he's learned in the lab and used it to introduce fitness enthusiasts to the most efficient and effective means of accomplishing their goals.
Why did Dr. Stoppani create JYM Supplement Science?
The supplement industry used to be dominated by products that hid ingredients or amounts behind "proprietary blends" or bogus claims of being "concentrated". Pre-workouts in particular offered little in the way of effective ingredients, instead relying on stimulants to make users "feel" like they were working.
After years of recommending formulas that required his readers to buy individual ingredients to combine themselves (often with awful-tasting results), Dr. Stoppani decided to introduce his first product, Pre JYM, which featured a fully transparent label disclosing every ingredient and a formulation that provided ingredients in studied amounts to promote better performance and results.
What makes JYM Supplements different from any other brand?
Every JYM Supplement Science product is formulated according to Dr. Stoppani's exacting standards, namely his 5 Pillars of Supplementation. These are Proper Ingredients, Proper Ingredient Forms, Proper Ingredient Amounts, Proper Synergy, and Proper Timing.
In addition to this, every JYM Supplement label lists clearly each ingredient and its amount. Last but not least, Dr. Stoppani makes every effort to ensure that each flavored JYM product is as enjoyable to take as it is effective.
Are JYM products only for serious or experienced athletes?
The JYM Supplement line is designed to work together and consistently over time to improve performance, results, and overall health. While intended for use in the context of a fitness lifestyle, JYM products can be useful to newcomers and veterans alike.
Where can I learn more about the science behind JYM Supplements?
Visit the individual product pages on JYMSupplementScience.com for more detailed breakdowns of the science behind each product and what they can do to help you get more from your diet and training.
* These statements have not been evaluated by the Food and Drug Administration. This product is not intended to diagnose, treat, cure, or prevent any disease.