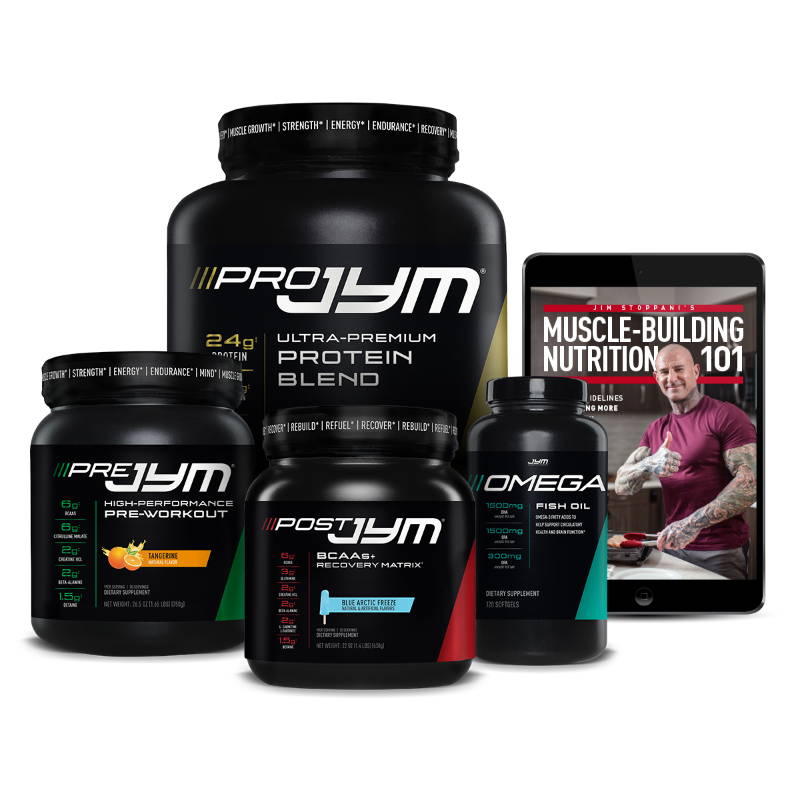 Pre JYM, Pro JYM, Post JYM BCAA+ Recovery Matrix, Omega JYM, Muscle-Building Nutrition 101 ebook
It doesn't matter if you're an athlete, serious weight trainer or hard gainer, if you're looking to pack on serious muscle, look no further than our Ultimate Muscle-Building Stack. Designed by Dr. Jim Stoppani this award-winning stackis specifically designed to support workout performance, help kickstart recovery, and increase protein feedings so you can build and maintain maximum muscle size*.
• The ultimate muscle-building value: a 10% savings on the supplement bundle and free ebook ($29.95 value).
• A science backed, all-inclusive supplement regimen – no need to buy any stand-alone ingredients like BCAAs or creatine*.
• An easy-to-use nutrition guide that tells you exactly what to eat and when for lean muscle gains – no more confusing and restrictive diets that are impossible to stick to*.
• More muscle through an ideal blend of fast-, medium-, and slow-digesting proteins and amino acids shown to boost muscle protein synthesis (MPS)*.
• More intense, productive workouts with a true performance pre-workout*.
• The recovery-boosting ingredients you need after intense workouts to start the muscle repair and rebuilding process and optimize MPS*.
• The omega-3 fats you need, via a high-potency fish oil product, to support the muscle building process*.
*These statements have not been evaluated by the Food and Drug Administration. This product is not intended to diagnose, treat, cure, or prevent any disease.
©2022 JYM Supplement Science. All rights reserved. JYM® and JYM Supplement Science® are registered trademarks of PHD Fitness, LLC.
Always consult with a qualified healthcare professional prior to beginning any diet or exercise program or taking any dietary supplement. The content on this website is for informational and educational purposes only and is not intended as medical advice or to replace a relationship with a qualified healthcare professional.