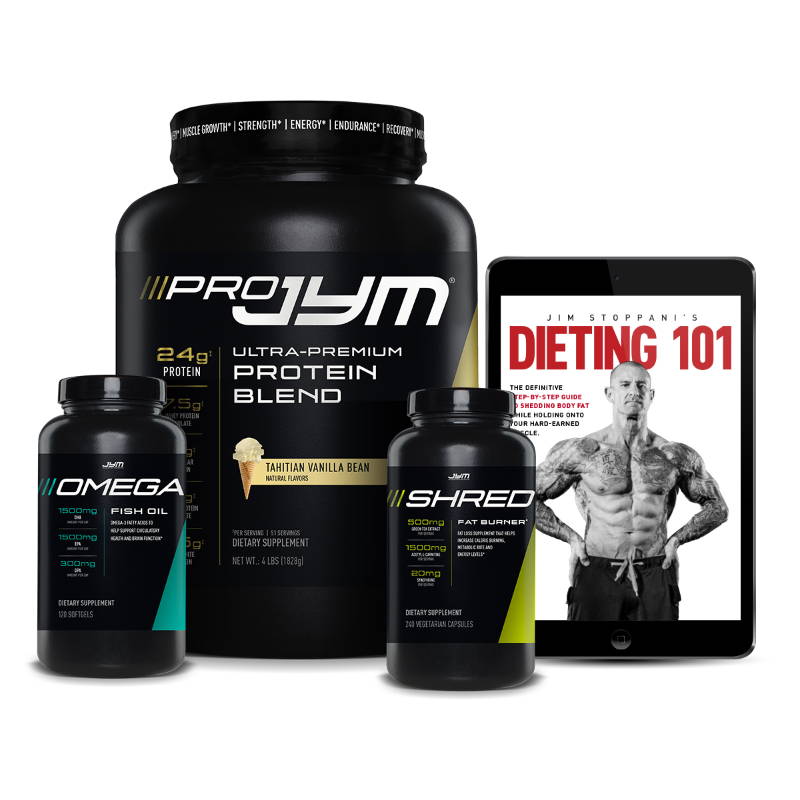 Shred JYM, Omega JYM, Pro JYM (4 lbs.), Dieting 101 fat loss nutrition digital ebook
When it comes to supporting fat loss and maintaining lean muscle having the right diet and the right supplements can make all the difference. By working in precise ways, the combination of Shred JYM, Pro JYM, and Omega JYM work together and to help you lose unsightly body fat, get beach ready, or get dialed-in for *.
• Exclusive savings for the ultimate in fat-burning sports nutrition: a 10% savings between the supplement bundle discount and free ebook ($29.95 value).
• A revolutionary total body transformation system complete with award-winning supplements and science-backed nutritional guidance*
• An effective fat-burner to help increase caloric expenditure and curb appetite*
• The perfect protein blend to support building and maintain lean muscle for lasting fat loss*
• Pure and potent healthy fats to activate genes that burn and keep body fat off*
• The result-proven eating plan that has helped tens of thousands of men and women get lean and stay
*These statements have not been evaluated by the Food and Drug Administration. This product is not intended to diagnose, treat, cure, or prevent any disease.
©2022 JYM Supplement Science. All rights reserved. JYM® and JYM Supplement Science® are registered trademarks of PHD Fitness, LLC.
Always consult with a qualified healthcare professional prior to beginning any diet or exercise program or taking any dietary supplement. The content on this website is for informational and educational purposes only and is not intended as medical advice or to replace a relationship with a qualified healthcare professional.