Vanilla PB Pro JYM Cinnamon Rolls
This gooey, delicious treat packs a protein punch while keeping carbs and fat in check.
---
From a flavor perspective, what you see is what you get with this recipe: warm, chewy cinnamon rolls with icing and a blast of peanut butter. Sound good? It tastes even better!
What you don't see makes it truly magical: 10-15 grams of protein per roll, with 16 or fewer grams of carbs and 5 grams or less of fat. This isn't your typical cinnamon roll, though it sure tastes like it. The "secret sauce" here is Vanilla Peanut Butter Swirl Pro JYM — one of the best protein powder flavors you'll ever have.
Enjoy these PB cinnamon rolls as a weekend breakfast or an any day guilt-free dessert. Share them with others in your family... or don't!
Ingredients
Dough
1 scoop Vanilla Peanut Butter Swirl Pro JYM
¾ cup (90g) self-rising flour
¾ cup (180g) plain, nonfat Greek yogurt
PB Cinnamon Sugar Filling
½ tbsp (10g) cinnamon
¼ cup (32g) peanut flour* (mixed with ¼ cup water to make a peanut butter consistency)
¼ cup (50g) brown sugar substitute
PB Cream Cheese Protein Icing
½ scoop Vanilla Peanut Butter Swirl Pro JYM
½ brick (113g) reduced-fat cream cheese, softened
¼ cup (56g) plain, nonfat Greek yogurt
2 tbsp (16g) peanut flour
1-2 tbsp milk**
2 tbsp (30g) powdered sugar substitute
Notes:
*Can also use regular peanut butter here, but it will have higher fat and calories than peanut flour or peanut butter powder.
**May need more or less; just enough to get a good icing consistency.
Instructions
Preheat oven to 350F.
For the dough, add flour, Pro JYM (1 scoop), and Greek yogurt to a bowl. Mix together until combined. Add the dough to a floured surface and press or roll it into a rectangular shape, about ½ inch thick.
For the cinnamon sugar filling, mix peanut flour with water until a peanut butter consistency forms. Mix peanut butter (peanut flour + water), brown sugar substitute, and cinnamon until smooth. Spread over the cinnamon roll dough.
Roll dough into a log and cut into 7-8 equally sized rolls. Spray a pan or dish with nonstick spray, and place the rolls into the pan.
Bake at 350F for 20 minutes or until the tops of the cinnamon rolls turn golden brown. Once baked, let cool slightly while you make the icing.
For the icing, mix together cream cheese, Greek yogurt, and peanut butter (peanut flour + water). Add Pro JYM (1/2 scoop) and sweetener if desired.
Top cinnamon rolls with icing, and enjoy!
Yield: 7 Cinnamon Rolls
Nutrition (without frosting): 105 calories, 10g protein, 13g carbs, 1g fat
Nutrition (with frosting): 170 calories, 15g protein, 16g carbs, 5g fat
Indulge in the delightful goodness of PB cinnamon rolls.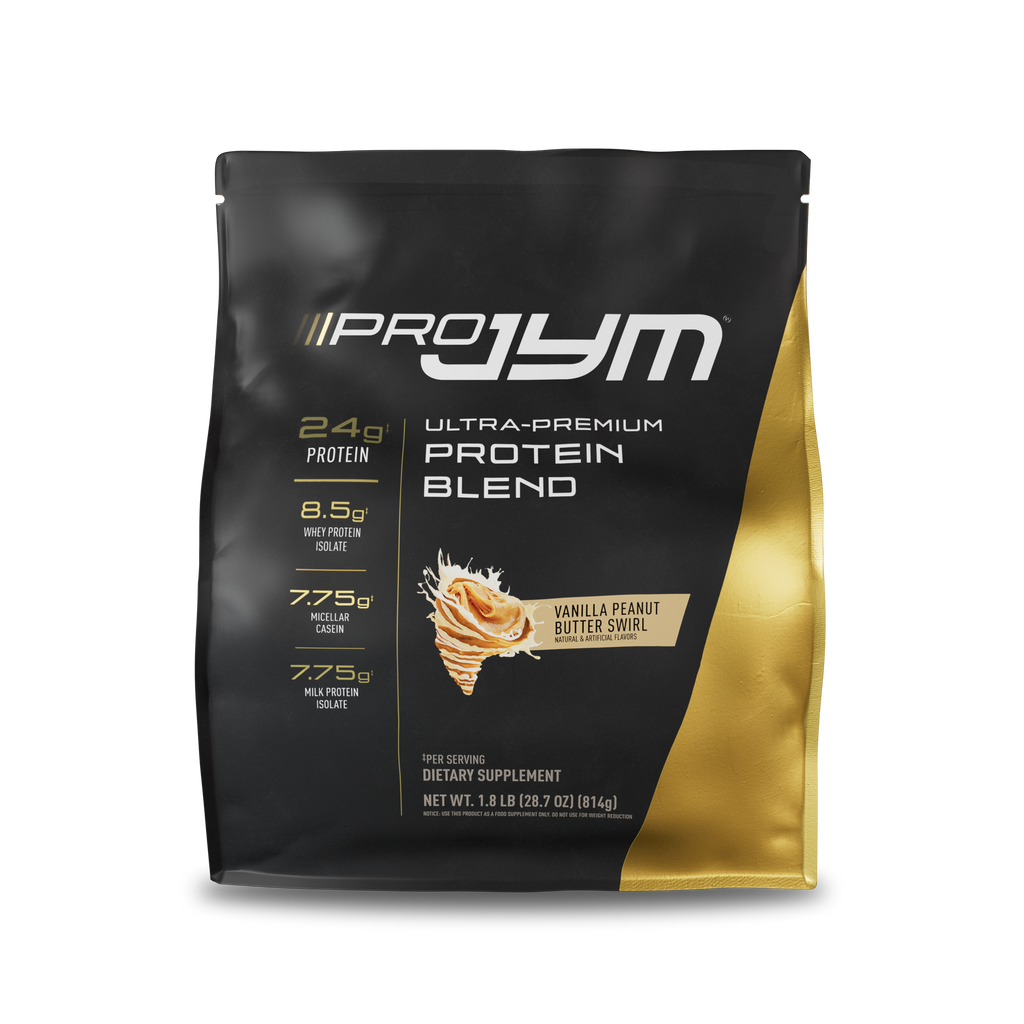 Pro JYM - Vanilla Peanut Butter Swirl
Buy Now